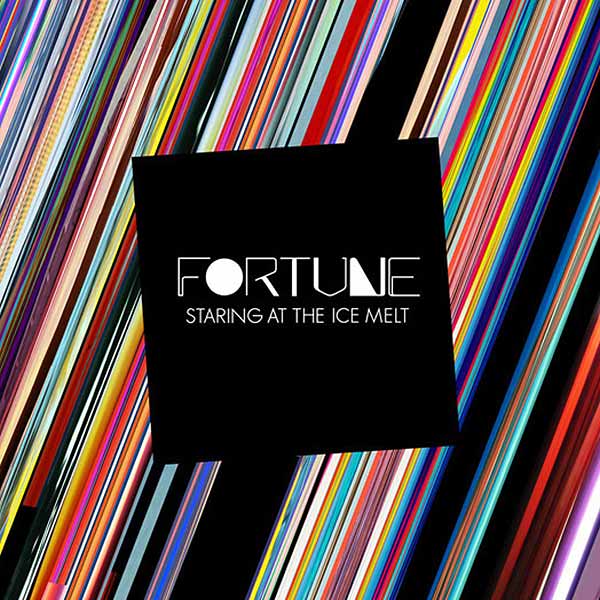 Many see the electronic music scene in France as suffering from an over-representation of standardized groups. If this cut and dry opinion is true to some extent, it is nonetheless facetiously obvious that the listener must also leave the beaten track and subscribe to the numerous outsiders with their noble ideas.


It's in this way that we must approach Fortune and their album "Staring at the Ice Melt", released two months ago.


Rich training and a pop music culture inherited from the 70s and 80ts, Fortune immediately states the color of their music. No, the colors. Multicoloured.



From the very first notes, the ear is enveloped in golden layers, warm orange and blue sky. Summer opens its arms to you. A catchy and haunting voice takes you by the waist, the base shakes your hips and piano sets the tempo. How can you ever resist being overcome by such positive surf …


In an atmosphere of carelessness and communicative lightness the pieces follow one another, without ever slipping into the easy cut formulas for success.


Each piece and its effect displays itself, bringing color to the rainbow.


« Under the Sun », or the soundtrack of a city's café terrace in the month of June, holds out its hand to start the weekend. Each day becomes a holiday. The liquid guitar flows into your mind like a refreshment. The voice smiles and the piano resembles the smile of a stranger met in the course of a stroll.


Then comes « Gimme", perfect British song, entirely digested in new wave. The rhythm grabs you immediately after the first verse, expanding in the chorus, moving the shoulders and make you want to live longer.


« Bully », a soundtrack from a Comet TV ad across the Channel, rekindles the flame of the 70′s chanted and incandescent rock scene,. The drums roll, the song becomes an anthem. Your chin goes up, your fist rises, we're 17 years old and life belongs to us.


« All Night » dives right into the new wave and sends Eurythmics and The Presets back to back. The reptilian base slithers in and out, leaving the keyboard and choir to mesmerize our attention. The lights go down, we are dancing alone, but dancing in our heads.


Then comes « Since you're gone, » a little musical delight, exquisite delicacy on the surf guitar accompanied by a sun-filled voice. The month of August, 6:00 pm, shadows lick the scenery, the beach is empty and we aren't returning home. Freedom is now. « Since you're gone, well nothing makes any sense." It's true. But it's so beautiful here right now. Come back, we'll be so happy here.


Then muffled layers of « Highway (part 1) » come to our ears. Intimacy is created and the voice fades away. Instantaneous inner life. Are we happy or sad …?


The issue disappears when the sun of « Highway » illuminates your face. A first rate road musical, the song creates a path where the mind is committed to escaping on amber keyboards and woodland rhythms, following a robotic voice that resonates from afar. The road lies ahead, made of still landscape and the zest of scattered civilization.


With « Nothin'" It's the 80s rock which comes to us. Foreigner, The Cars, light rock, both simple and obvious. Crystalline guitars that let a rhythmic chorus explode, punctuated by the piano. The trick is played.


When « Celebrate » starts, it's impossible to resist. The base catches hold of your hips, the voice whispers in your neck. It's totally groovy. We close our eyes, the bodies approach. « Hey, tonight, let's celebrate. » The funk gimmicks funk make the sequins vibrate, the bridge sounds like disco. Sensuality becomes tactile.


"Venus" plunges its roots into the vintage 70s and surf music to extract a moody and fragile pop song.


" Fancy Role" releases the machine once again to the sound of Depeche Mode type keyboards, before offering a breath of fresh air with the echoes of a feminine chorus.


Then comes « Poison » to close the album. Very gently, like a farewell, a night on a sidewalk, a last touch of hands, a smile that we wish we could carry with us forever. The streets are lonely, footsteps echo. Anger rises like drunken ecstasy. The guitars ring in our ears like a heartbeat. Our view is blurred. We are alone now.


With « Staring at the Ice Melt, » Fortune offers a notebook of colours and sensations. Each song tells a story, every detail scores a goal. Steel drums, ukulele, hypnotic synthesizers, sensual base or vintage gimmicks, the seductive gear deployed by Parisians is brilliant and completely disarms you.


You may be reminded of Phoenix, the brilliant Tahiti 80, Pony Pony Run Run or Air. But no, just think of Fortune. For, yes, here is a stunning new player to be accepted without discussion.


And here is a perfect record for the month of June Here's a perfect CD for a perfect moment.
Quite simply..


Staring At The Ice Melt sur Spotify : Fortune – Staring At The Ice Melt
Fortune sur Myspace : Myspace.com/ilovefortune
Site officiel de Fortune : F-o-r-t-u-n-e.com


Facebook comments: